Tree C Technology: The Next Generation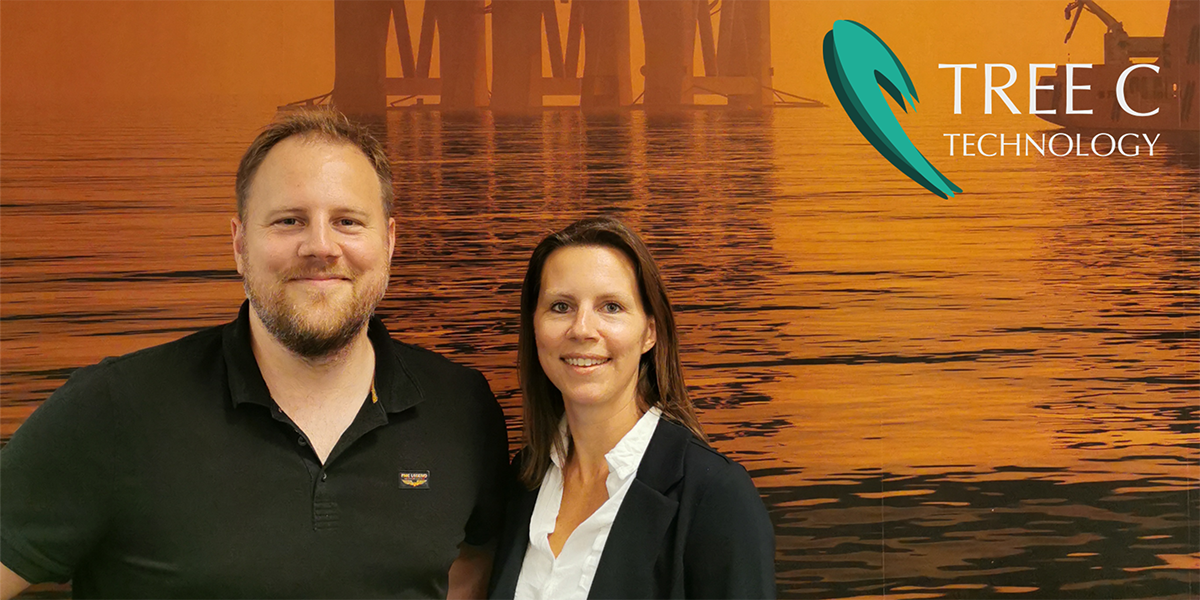 Technology and organizations continuously evolve, as do customer needs and their expectations from technology vendors. At Tree C Technology, we've managed to stay close and relevant to our customers for 30 years, developing innovative 3D simulation solutions. During that time, it's not just the technology that's changed – it's the people behind the business as well.  
Founded by Gerard and Renate Weder in 1994, Tree C Technology grew out of the Dutch subsidiary of a US based major CAD-CAM company. In the last few years, the Weder's children – Nienke and Thomas – have taken over the day to day running of the family business. They are the next generation of Tree C Technology.
From interactive 3D models to multi-asset simulators
"The demand is no longer for one 3D model, or one simulator, or one machine, but multiple machines interacting with each other. These days, we support complex missions with multiple machines running in highly interactive environments."

– Thomas Weder, Director of Business Development, Tree C
If you've read our blog post on what we do and why we do it, you'll know that over the years our offer has evolved from an off-the-shelf Computer Aided Design (CAD) solution to sophisticated, multi-asset, realtime 3D simulators. In that time, our customer-base has shifted from manufacturing companies, architects and urban planners to companies in the offshore industry and robotic remote handling.
Over time, our product has organically evolved, driven by the needs of our clients and the market. As soon as our early customers had a virtual 3D environment, the next logical step was to make it represent real-world objects and environments more accurately. This led us to pivot from selling an off-the-shelf visualization product to investing in the development of a dynamic, highly interactive simulator framework to meet changing customer needs.
The turning point came when a major client – a heavy-lifting company – asked us to go beyond visualizing their dual crane vessels and code a simulator that could move two cranes at the same time so operators could practice their cooperation and interact with payloads in a realistic way. This became the launch pad for our future direction of advanced physics simulation and set the path for having more than one user in a single simulation environment.
20 years ago, we began developing what would become VR4MAX – a state-of-the-art simulation platform with realistic rendering and physics simulation. Today, our powerful proprietary framework continues to evolve, and our line-up now includes VR4Robots – software specifically designed to support remote handling operations.
A breakthrough in remote handling operations
One key milestone for Tree C Technology was the start of our ongoing collaboration with Oxford Technologies on the Joint EuropeanTorus (JET) – the world's largest and most advanced tokamak. Located in Abingdon, Oxfordshire in the UK – JET used our platform to not only visualize equipment, but to create, simulate and monitor remote handling procedures in a radioactive environment. It's a relationship that continues to this day, with Oxford Technologies Ltd now trading as Veolia Nuclear Solutions, delivering simulation solutions to support the decommissioning of the damaged Fukushima reactor in Japan and the development of new decommissioning techniques for graphite reactors at Graphitech, France.
"The first robotic use case for VR4Robots was the support of the maintenance shutdown of the nuclear fusion reactor at JET, UK, which required 100% remote handling. VR4Robots proved to be a vital tool for preparing these challenging operations. Since then, the software further evolved to simulate and monitor any nuclear robotic operation at high levels of accuracy. "

– Nienke Weder, Director of Operations, Tree C
Another important turning point for our software was when the Jan De Nul Group contracted us for the development and delivery of a subsea rock installation simulator for its headquarters in Capellen, Luxembourg. This resulted in a hardware-in-the-loop simulator of unmatched level of detail and realism.
From gimmick to enabling technology
"In the time that Tree C has existed, the technology has not stood still. People's perceptions of what a simulator is, what to expect from one, and how it can be used have changed dramatically. It has become an indispensable tool for crew training and mission preparation."

– Nienke Weder, Director of Operations, Tree C
In the early days, our customers needed a lot of guidance and support to understand what was possible with a 3D simulator. Now the questions we receive from customers – and their expectations –  are much more complex. In general, higher levels of realism and more accurate physics calculations are expected.
To some extent, we're bound by the limitations of modern hardware, so the development of faster and more powerful computers will always present new possibilities and advancements. Even compared with 10 years ago, we can now develop much more sophisticated simulators because of the available computing power.
Tree C offers an 'enabling technology' that delivers real value to our clients. In recent years, we've invested in standardization and the simulator development workflow, resulting in our flagship flexible simulator framework.
This is a new approach to simulation, moving away from one-off fixed simulator installations to a flexible framework where multiple assets can be simulated in the same virtual environment. It's a totally scalable solution – easy to maintain and extendable with new assets and scenarios – that's able to run on everything from a laptop to a complete 'hardware-in-the-loop' setup.
Based on this technology, it's our mission to support clients from the maritime, offshore, and nuclear remote handling industries with the most realistic simulation environment for testing, validation, operational monitoring, and training. In this way, they'll acquire a multipurpose 'digital fleet' that can be used by people across their organization, including engineers, operational departments, and operator trainers.
It takes teamwork to deliver high quality solutions. Gerard and Renate Weder still hold advisory and administrative roles within Tree C, but these days it's Nienke and Thomas running the show, together with a team of talented engineers. Gerard's passion for technology and engineering – especially heavy, complex machinery – is still a driving force for the company that prides itself in being responsive to both innovative developments, and more importantly, client needs.
Discover how simulator technology from Tree C can support your offshore or remote handling operations. Contact us
---