VR4Robots: New Features Spotlight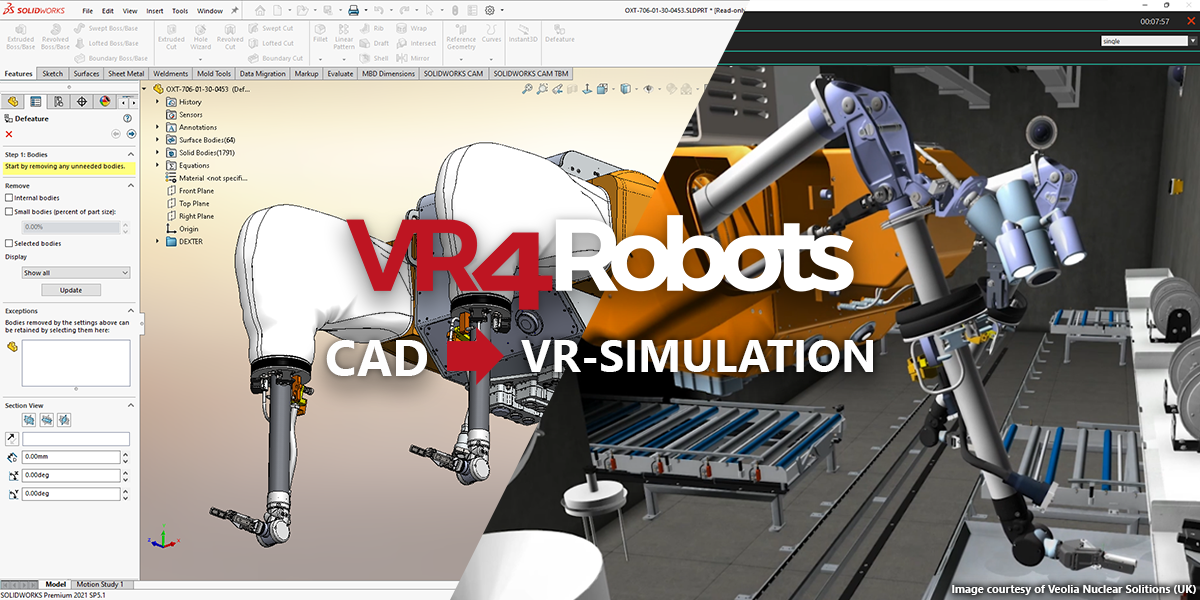 Whether you're new to VR4Robots or you're a long term user of our powerful robotics simulation software, there's a lot to discover when you dive under the hood. Sometimes it's hard to keep up. We hear you.
So for this blog post, we spoke to visualisation and simulation expert, Sander Tolsma, who guided us through 5 new and notable features of VR4Robots. Read on to find out what they are, why they're important, and how they can add value to your remote handling process.
How And Why VR4Robots Exists
Before we take a look at the new features, let's start with the product's origins.
VR4Robots owes its name to VR4MAX – a virtual reality (VR) product originally designed for users of Autodesk's 3DS Max. As the name suggests, VR4Robots is dedicated to robotics simulations. It began as a joint project with a company responsible for remote handling at the Joint European Torus (JET) fusion reactor in Oxford. At the time, the company was using generic CAD software.
Initially, Tree C helped to develop the CAD software for remote handling but at the turn of the century, we started to provide our own solution. By today's standards, it was basic. It allowed users to mimic the actual robot in a virtual environment.
The original purpose of VR4Robots was to show operators what their robot was doing. That's because operators didn't always have a hands-on feel for the robot's movements. With a virtual view of a robot in operation, they gained enhanced situational awareness. This was particularly useful for a radioactive environment. That's because over time, cameras degrade, and the clear visibility they provide when they are first installed diminishes.
Over the years, the features of VR4Robots grew and developed to where we are today: fully accurate simulations of robots in virtual environments which follow the laws of physics. Now it's possible to simulate robots which exhibit deflection due to gravity, tools picked up, or even collisions. This makes VR4Robots highly suited to assist in de-risking in complex scenarios – such as the clean-up of a nuclear disaster.
New And Notable Features
Over the past 20 years, VR4Robots has evolved side-by-side with advancements in robotic engineering. That's why today it can support every stage of a robot's lifecycle, from design concept to everyday operations. In the past year, we've added more than 12 new features driven by our clients' needs. Here are Sander Tolsma's top 5:
1 Import Of CAD Models
One of the most anticipated new features of VR4Robots is the ability to directly import STEP (Standard for the Exchange of Product Data) files. No matter what CAD software is used to create the robot, an exported STEP file can be loaded into VR4Robots and converted into a fully-functioning, and simulated piece of machinery. This means software engineers no longer have to bring the design into 3DS Max first in order to make it compatible with VR4Robots. We've successfully removed what can be a time-consuming and complicated step in the process. Ideal for quickly testing multiple design updates.
2 Flexible Desktop Support
It goes without saying that with a sophisticated robotic model, there are multiple interfaces to manage. That's why it's common to operate highly-complex simulations with two or even three monitors. The problem is that sometimes operators are constrained by space in the actual environments in which they work. So we've recently improved the screen real estate to be more flexible and scalable, enabling operators to configure their interface based on the number of monitors available.
3 Point Clouds And Measurements
When it comes to clearance and collision avoidance, accuracy is everything. By taking advantage of 3D scanning, VR4Robots can now incorporate data from point clouds and replicate precise, and real-time measurements within a virtual 3D environment. The data from a laser scanner can be used to determine accurate clearance levels for a robot moving within the real environment. A powerful feature for mission preparation, but also for 'live' de-risking support of ongoing operations.
4 User Experience
It's a small detail, but an important one. There's no question that loading real and complex datasets for virtual machinery and environments takes time. So we've made changes to speed up the process, combined with dynamic feedback on loading progress. Alongside improvements to the user experience, we've also expanded the user manual to cover a broader range of topics and added detailed documentation on how to connect external control applications to VR4Robots.
5 Move Towards Objects
When moving a robot which has multiple moving parts, operators are used to controlling the last link in the chain – using inverse kinematics or end effector control. So instead of driving each hinge separately, the operator just commands the final movement. For a long time now, users of VR4Robots have been able to do this in a virtual environment. What is new, however, is that the virtual robots can now also move towards a predefined object within a scene through a fully automated movement.
How VR4Robots Evolves
Due to the nature of what we do here at Tree C, we're closely and actively involved in our clients' projects. Either we process CAD models and develop simulators, or take a more advisory role.
The VR4Robots user base typically has to deal with complex operations, often in hazardous environments. When external users call on our support, it helps us to identify opportunities to make our product increasingly fit-for-purpose, aimed at de-risking remote operations.
That means over the years, we've managed to create a really user-friendly product which evolves with what our clients actually need, based on their real life challenges and proven invaluable in their complex and demanding projects.
Got a question about VR4Robots? Contact us.
---